Security is currently at the forefront of any storage discussion. In the face of rising security threats, it's the last thing that can wait, everything else can. To avoid getting nasty surprises, companies are taking proactive security steps to protect their data from bad actors. We recently had the pleasure of having a conversation with Surya Varanasi, CTO at StorCentric about this and how they are trying to make storage more secure and performant at once at StorCentric.
Security Threats Are Challenging Storage Providers to Bring on Their A-Game
Up until a slew of ransomware attacks swept through the cyberspace, security was not high on our agenda. We were way more excited and occupied with applications; security was secondary. It was apparently a big surprise when news of hefty ransomware payouts started to emerge one after the other and that was a turning point in security.
In recent years, interest in security has grown relatively. As attackers continue to devise new threat vectors and malware to break into systems and access sensitive data, cybersecurity rollouts grow in number. Today, there is a profusion of security solutions in the market, but the number of storage solutions with intelligent security features are still low.
StorCentric and It's Most Recent Announcements
Storcentric seeks to change security being an afterthought in storage and to that end, it introduced the general availability of its Nexsan Unity NV10000. Announced on April 5th, the Nexsan Unity NV10000 is the fourth-generation enterprise class storage solution from the house of StorCentric. Just prior to this, in January, the company released Unity 7.0, Unity's object store interface.
In the storage space, StorCentric needs no introduction. A known name for past several years, Nexsan is StorCentric's biggest brand to which it owes 95% of the revenue. As of now, StorCentric is very focused on security for all its primary storage products, but not at the cost of user experience or performance. In the bigger scheme of things, its mission is to deliver performance over price and that is the agenda it furthers with the new Nexsan Unity NV10000.
Nexsan Unity NV10000, An All Flash-Based Storage Solution
Nexsan Unity NV10000 is an all-flash NVMe platform that is a part of their Unity enterprise-class storage solutions. The latest addition to the proprietary Unity series, it's a storage solution that is packed with performance, capacity and flexibility required to support big data, analytics, backup and streaming.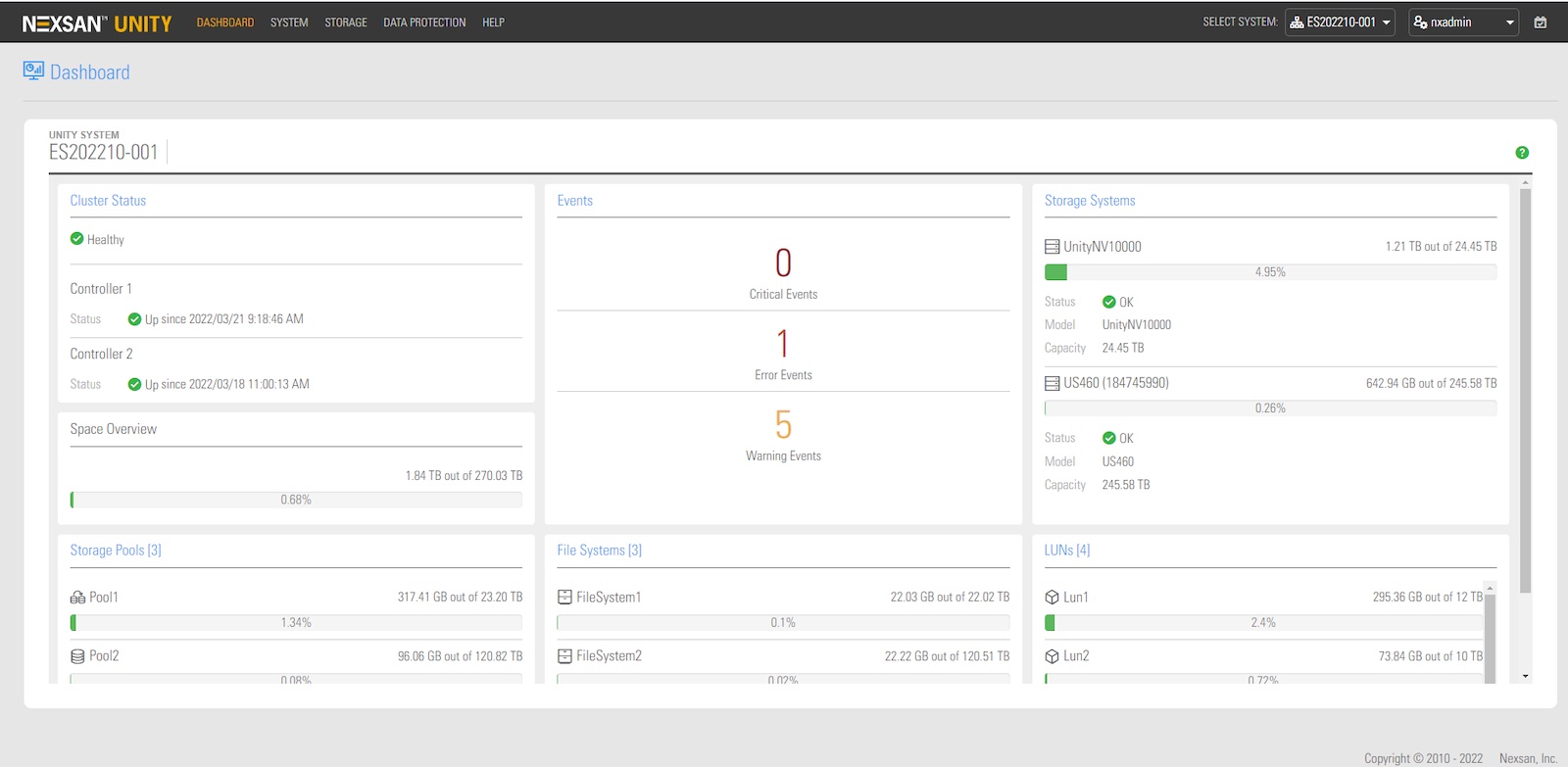 The Nexsan Unity NV10000 is a 2U dual controller high availability platform that boasts of built-in security features like data security, regulation compliance and ransomware recoverability. With features like S3 object locking and immutable block and file, it makes data backup secure from new threats. Attackers cannot change or encrypt data on it.
To make sure security does not impact the performance, StorCentric cranks it up with drivers like NVMe SSDs, latest Xeon scalable processors and high-density flash. It delivers a hybrid storage by combining HDDs and SSDs for greater economics. With scalability up to 10 PB, the Nexsan Unity NV10000 can delivery performance up to 20GB per second.
Compatible with new media like Optane, the Nexsan Unity NV10000 is a multi-storage protocol that supports file, block and object. Ready to connect to public clouds like Amazon S3, Google Cloud and Azure, it supports easy lift and shift of data. The StorCentric Nexsan Unity NV10000 seamlessly supports optional StorCentric solutions through which it enables easy data migration from legacy systems.
In Conclusion
The Nexsan Unity NV10000 offers rock solid security, something that is essential in today's times when ransomware attacks are ubiquitous. It's biggest plus is that it does not deliver security without performance or scalability. With all the three boxes checked, it is a storage solution that is cut out for critical data hungry workloads of this time. Special thanks to Surya Varanasi StorCentric for speaking with us, and Nicole Gorman for setting up the meeting.
Read more about the Nexsan Unity NV10000 on Nexsan's website. For more exclusives like this one, keep reading here at Gestalt IT.